Sometimes when I see a piece of vintage clothing my heart begins to pitter-patter like a child with a schoolgirl crush. These shoes are just such an item! When I saw them, I knew I had to add them to my collection of wearable vintage shoes.
The most exciting thing about these shoes (apart from their wearability) is that their original stamp is still fully visible inside. They are a late 1930's "Florette" shoe by
Florsheim
, and thanks to Google I was able to find the text from an original ad for them from The Salt Lake Tribune, April 1936! They were sold at a store in Salt Lake City called Auerbach's, and cost $8.75-9.75, depending on whether you wanted them in solid or strapped pumps. Here's the original ad text:



Hosiery—Street Floor "FLORETTE" SHOES By Florsheim if you're young or have young ideas 8.75-9.75 an d up "Florette" shoes have that out-of-the-ordinary smartness every chic young woman craves. If you have a practical side, too, remember they're FLORSHEIM and that means they'll wear. Expertly fitted by X-Ray Shoe Dept
And, while it is obviously likely they were purchased someplace other than Auerbach's, here is a period photo of the building that the above ad references:
Can't you just imagine the roar of 30's traffic, and the click of wooden heels on the pavement as you walked up to Auerbach's Department Store in 1936 to pick out your new pumps from the latest spring line? How exciting!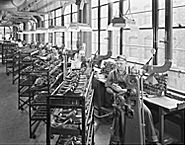 The (American) Florsheim company was started at the end of the 19th century in Chicago, Illinois. You can find some more information about the company
HERE
at the historical Encyclopedia of Chicago website.
The company survived both World Wars rather well, which is fairly impressive, and I guess there was a big "to do" about the company moving to St. Louis in 1953 since they'd been such a staple in the Chicago area. Since my pair of Florsheims are definitely pre-1950s, it's safe to say they were manufactured in the heart of the Chicago factory works. If you click the small thumbnail on the left, it links to the Encyclopedia of Chicago zoomable image of the Florsheim factory in 1949.
The shoes are a soft, supple leather in a neutral warm fawn color, and have so many design details that it's hard to highlight them all. The most obvious of the details is the enameled metal flowers on the "tongue" of the shoe, with beautiful red and yellow glass. They are also a reasonably vague antiquated silhouette, with their pointed toes and scooping heels, so they fit with pretty much any of the fashions from the turn of the 20th century through the 1940's!
While these shoes are a bit narrow for the modern foot, they are still in a wearable size and I can't wait to take them for a spin once the weather clears up a bit!
Have you ever had that tingly giddy feeling about a vintage item? What was it for you?